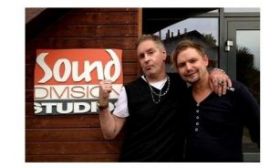 05.12.2012.
While the passion is not faded about who should or who will carry on the name of the legendary band ''Līvi" - for the past 25 years, Ainars Virga has been in the lead to continue his solo career by creating and recording new rock songs.
This time together with producer Artūrs Palkevičs at Sound Division studios a new song '' Es nevaru bez tevis dzīvot'' (I can't live without you) was developed, lyrics written by Guntars Račs. Mārcis Judzis a well-known drummer for "Dzelzs Vilks'' and a good friend of Ainars helped out at the studio. Guitar and guitar solo was played by Andrejs Meļņikovs. Keyboard, background vocals were recorded by the producer, Artūrs Palkevičs. More background vocals were song by a firefighter Jānis Buķelis.
There is another song waiting to show itself in the beginning of the next year.
Mp3 download at Doremi.lv
Enjoy!
Photo: Artūrs Palkevičs