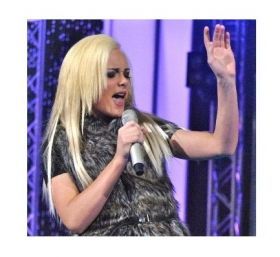 10.12.2012.
Madara Grēgere also known as Madry got inspired by her previous single success ''Miljons domu nakts'' (Million thought night) and now she is presenting her new song ''Portrets'' (Portrait). Lyric author is Gatis Zotovs.
Madry is a junior at Rigas Jazepa Medina music school, where she is studying jazz vocals. The new artist dreams to make an album entirely of her songs. She is actively working on her studio album. After graduating, Madara, plans to create a musical. Recently, Madara has joined a dance studio ''Pro-X''; she met, Ieva, the director of the studio at the rehearsals for the musical ''Dzimuši mūzikai'' (Born for music)!
Madara says, ''"Portrets'' (Portrait) is the first song that I wrote the melody for. I vividly remember all of the emotions while this song was being created into something real. I was very scared to show it to anyone because I thought that no one would like it; however, I showed it to my band ''4Vēji'' and they thought that the song is great, which inspired me.''
To the question what is this song about, Madara answers, ''… the song talks about feelings between two people, who are insanely in love and have lost their minds because of love. I hope that, when people are listening to this song remember the feeling, when they were insanely in love. Without love the world could not exist''.
Lyricist Gatis Zotovs talks about the song, ''… I assume that everyone has had a moment, anticipated or not, to find oneself infatuated, when everything else seems insignificant. It is a moment, where common sense is lost and all that's left is to feel. Regardless if a one wants it or not, one can get lost and not see the reality. Maybe a brave person can call it love - I call it Portrait.
Produced by Arturs Palkevics. Saxaphone played by Zintis Zvarts.
MP3: http://goo.gl/qN35j
Official audio: http://youtu.be/MtG6zTVeHWc
Dziesmas teksts: http://goo.gl/p38Wu