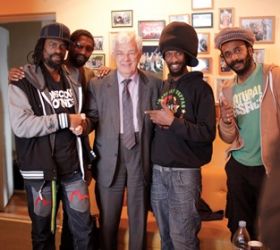 23.01.2014.
Lyric video:
Jamaican origin reggae musicians, who play music in the UK, as well as, in various European countries and occasionally participating in some music activities in Latvia, joined in the project "Raimonds Pauls Goes Reggae" the musicians are recording an album with Maestro Raimonds Pauls songs in a style of reggae. Microphone Records is planning to release the album early in the summer.
Most of the songs will be in English, but the first single, "Blue Diamond (Carbuncle)" is used in both English and Latvian. The lyrics and the arrangement were shaped together by all of the musicians. The project consists of Antony Robinson (Tena Stelin), the main vocalist, Dennis Daly (D-Rootical) (bass) and drummer Brian Fairbairn, who joined a band titled "Indikaa".
The record was produced by Gints Stankevičs. All of the musicians found him to be a very good reggae music producer, which is very unusual for white men. Gint, involved other Latvian musicians and he is very taken by the reggae style, and after listening to the entire best world reggae records and analyzing them, he has found his own sound that is implemented in this project.
Raimonds Pauls is very pleased about the idea and has met with the musicians in the studio for the first time, when they had just started working on this Project. After listening to the first complete work Raimonds Pauls devoted praise: "I like the fact that they interpret the songs in their own style. I will be waiting to see how it all will sound in the end. Blue Diamond (Carbuncle) sounds quite good, especially the text of the "Oh, blue, blue ......., I guess they do not know what it can be referred to here - the blue." Maestro joked in his usual manner.
The song Blue Diamond (karbunkuls) is available for download at portālā Doremi.lv