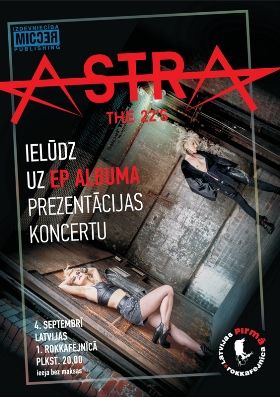 20.08.2014.
September 4th, Astra The 22's the joint project featuring Latvian singer/songwriter Kerija Kalēja & American singer/ songwriter Eric Jayk will have their debut public performance/EP release at the Latvian 1st Rock Cafe (Latvijas 1. rokkafejnīcā Reiterna namā) The show beginning at 8pm is free admission.
The day of the show the 5 song EP or mini album ''Blue Venom'' will be available in a limited version, which they are taking to Lithuania to "Vilnius Music Week" right after the show at the Rock cafe., where Astra The 22's are invited to perform. The band will perform a 45 minute set on the 6th of September at LOFTAS stage at 8pm. This will be the first visit to the Baltic countries for Eric Jayk
Eric: "I am looking forward to see the reaction of the listeners. This will be the first time that a broader audience will hear us and our job is to make them like it. So, everything depends on us. The release of the EP once again proving to me that everything in life is possible. Music is a universal language with powerful effects. We still have a lot of ideas, many songs, so this is just the beginning..."
The current Astra The 22's single "Save Me" has been on the Top 20 Radio SWH for several weeks, and the video of the single Save Me is viewable on Kanāls 2, Music Video Channel and PBK.
YouTube: http://goo.gl/Ji1x4q
The new EP besides "Save Me" will include four brand new songs, of which the title track "Blue Venom" will be the next single due to be released on 1st of September. With help from producer Kyle Kelso (Motown records, Atlantic, Mercury and Hollywood records), all the songs on the EP were recorded and mixed in NYC and Mastered in LA by Howie Weinberg (Nirvana, The White Stripes, Red Hot Chili Peppers) .
While recording the songs for the EP there was a new photo shoot.
Photo: Brian Reid